Contemporary 3-Panel Poplar Wood Interior Doors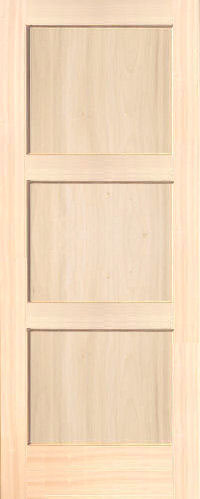 Style #W-3CM
Contemporary 3-Panel Design
Poplar

Flat Panel / Square Sticking Profile
Product Details:
Style #TM-301-F

Made in the USA

Pricing was last updated on 6/16/16
Call to verify current pricing

6'-8" height X 1-3/8" thick
Prehung in 4-9/16" jambs
Door Width:
Unit Price:
1'-6"
$ 256.00
2'-0"
$ 263.00
2'-4"
$ 263.00
2'-6"
$ 271.00
2'-8"
$ 271.00
3'-0"
$ 287.00
Bifolds


(Incl. jambs, bifold track hardware and hinges)

2'-0"
$ 307.00
2'-6"
$ 329.00
3'-0"
$ 340.00
Lead Time: Delivered to you in about 2-3 weeks
For double-door prices, multiply single door price X 2
Unfinished wood
Prehung unit includes jambs, stop, hinges, lock prep
Slabs available for sliding door tracks
Pricing based on order of 6 or more
If you need special door or jamb sizes or have other requests, please call us 419-684-9582 or submit an online quote request.
To Order:
Call Us:
419-684-9582
Description
Technical Info
Our poplar contemporary 3-panel doors provide an affordable way to put a high quality product in your home. This design is very popular for modern homes, but really could go well with any shaker or craftsman home. Poplar can easily conform to your tastes with paint or a stain. These are solid interior doors crafted and engineered for maximum stability and durability.
Door Width: See price list
Door Height: 80"
Door Thickness: 1-3/8"
Panel Thickness: 3/8"
Jamb Type: Poplar Veneered (solid poplar or paint-grade available on request)
Jamb Width: 4-9/16" (more jamb sizes available on request)
Lock Bore Backset: 2-3/8" (2-3/4" available on request)
Hinge Type: 5/8"-Radius Residential-Duty (upgrades available for upcharge)
Hinge Color: Many options including Polished Brass, Oil Rubbed Bronze, Satin Nickel, Chrome and more
Lockset: Not included (Can be purchased separately at www.homesteadhardware.com)
Bifold Width: see price list
Bifold Height: 79"
Bifold Track: Included
Bifold Jambs: 4-9/16" (odd jamb sizes available on request)