Vertical Grain Douglas Fir Equal 3-Panel Veneered Interior Doors with Flat Panels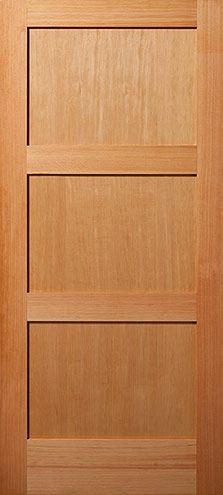 Style #RV-30-OV
Equal 3-Panel Design
Flat Panels
Ovolo Sticking
Solid Core Veneer Door
Door Profile
Door Details:
Style #RV-30-OV
Pricing was last updated on 6/16/16
Call to verify current pricing
6'-8" height X 1-3/8" thick
Prehung in 4-9/16" fir veneer jambs
Door Width:
Unit Price:
1'-6"
$ 271.00
2'-0"
$ 281.00
2'-4"
$ 289.00
2'-6"
$ 289.00
2'-8"
$ 289.00
3'-0"
$ 293.00
Lead Time: Delivered to you in about 2 weeks
Solid wood core stiles and rails and 1/4 " thick panels
Ready to stain and varnish with light sanding
Prehung unit includes jambs, stop, hinges, lock prep
Double-door configuration available (2 X Price)
Slabs available for use with sliding-door track
If you need special door or jamb sizes or have other requests, please call us 419-684-9582 or submit an online quote request.
To Order:
Call Us:
419-684-9582
Description
Technical Info
Buy our vertical grain Douglas Fir equal 3-panel interior wood doors and get a quality crafted, durable product for your home. These 3-panel doors have flat panels with ovolo sticking and are a great fit for contemporary style or colonial style homes. Built solid from vertical grain Douglas fir for excellent stability and strength. Ready for stain and varnish after light sanding. Provided as prehung units (jambs ship unassembled) ready for an easy installation. We ship doors nationwide.
Door Width: See price list
Door Height: 80"
Door Thickness: 1-3/8"
Panel Thickness: 1/4"
Jamb Width: 4-9/16"
Jamb Type: Douglas Fir veneer on FJ pine
Lock Bore Backset: 2-3/8" (or 2-3/4" on request)
Hinges: 3 per door; Residential-Duty 5/8"-Radius Corner (hinge upgrades available)
Lockset: Not included (Can be purchased separately at www.homesteadhardware.com)